Welcome Week 2020 special blog post by student Nguyen Hong Nhu, Chevening  scholar School of Education, University of Bristol
Chevening Chinwag* is a series of informal pleasant conversations with our Vietnamese Chevening scholars, who are currently experiencing their exciting, challenging, and life-changing Chevening journeys.
[*] Chinwag (n.) /ˈtʃɪn.wæɡ/: a long and pleasant conversation between friends.
In this edition, let's follow Nguyen Hong Nhu, our outstanding Chevening scholar, studying Education, at the University of Bristol to listen to her amazing stories about her contemporary course that enables her to develop ideas for an Augmented Reality app; the diversity and inclusion of her University; how she quickly adapted to the 'new normal' with her dissertation; her special "Pub Friends"; and her advice to interested Chevening applicants.
The University of Bristol offers a variety of specialisms for a Master's degree in Education, which are tailored to suit students' learning needs. Could you share with us which disciplinary you chose and what is your overall evaluation of the course and the university so far?
I'm pursuing a Master's of Science in Education at the University of Bristol, with a focus on Learning, Technology and Society. In essence, this course enables students to take a critical perspective on how technologies can support learning. Instead of focusing on the functional use of technology, the programme examines the wider set of factors that influence the outcomes of their use in education.
I greatly enjoy the contemporary course structure that allows me to try out different educational technologies such as robots and immersive technologies as well as to engage in debates to examine the integration of technology into learning critically. A highlight of my study was developing my own idea for a mobile application that uses augmented reality to support children and their parents to learn about science in the natural world and to connect with nature. The design idea for this app stems from my interest and professional experience in science, technology, engineering, and mathematics (STEM) education, and I hope that in the future, I can further develop this app to help Vietnamese students learn about science in a fun and engaging way.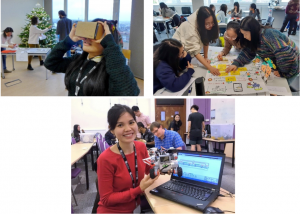 Photos: Presenting my app idea, guiding my classmate to experience virtual reality with Google Cardboard, and attempting to code with educational robots
Furthermore, I have been privileged to study with world-class academics with excellent research records in the field of education, technology and society. The University promotes an inclusive and diverse community that reflects in the diversity of staff coming from various countries such as the UK, America, Canada, Chile and also Vietnam. The feeling of attending classes taught by tutors who are world leaders in their subjects and are actively involved in relevant research is truly special! Also, my lecturers are caring and always making sure that their students have the best academic and wellbeing support to thrive. Learning at the Master's level is challenging, let alone learning in a language other than your mother tongue. My lecturers work diligently to give students feedback and are willing to lend a sympathetic ear if we have problems.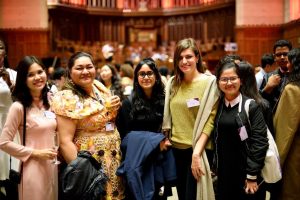 Photo: With some of the international Chevening scholars at the University of Bristol 
COVID-19 has fundamentally changed our ways of life, including how we learn and work. How would you rate your university's response to this pandemic? What services/support has your university provided its students?
While the COVID-19 pandemic has brought unprecedented challenges for students, lecturers and the wider university community, I appreciate the University of Bristol's exemplary response to such an unprecedented set of circumstances. Classes were being moved online and catered for people to engage in different ways (a steep learning curve for both students and lecturers), and the University still offered a variety of student support services ranging from study skills to wellbeing service. I know that some of my lecturers have been juggling childcare and teaching, but they still did their best to respond to our messages outside of their own usual working patterns.
That said, we are all on a COVID-19 learning journey, and the full impact of the pandemic remains to be seen. As universities continue to develop blended learning models that combine face-to-face and online education, I hope that students will have high-quality, flexible and safe learning experiences​ at the University of Bristol in particular and in the UK in general.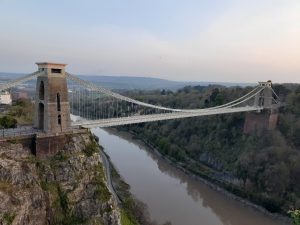 Photo: Bristol Suspension Bridge
As a fervent advocate for education, STEM and digital technologies, are you going to integrate any of these fields into your dissertation? With COVID-19 pandemic halting a lot of 'fieldwork', how did you manage to find your resources and carry out your plans?
My dissertation focuses on online learning during COVID-19 in the British higher education context, a timely response to the current situation. In fact, before COVID-19, I had planned to research on a different topic. However, as a student who has studied educational technology and experienced first-hand the impacts of the urgent shift to online learning that the pandemic brought about, I decided to examine this topic further. By interviewing university lecturers in the UK, I aim to investigate how they have adapted their teaching practice to deliver online education in response to the coronavirus crisis and how institutions have supported lecturers to deliver online learning.
It has been an exciting experience conducting my own research completely online! At first, I felt a little intimidated interviewing well-regarded lecturers. However, they were all supportive and respectful of me as a researcher, which made me feel much more confident. Moreover, the pandemic has forced disruptive transformations on research methods, requiring traditional in-person interviews to be moved online. This movement would challenge us to reflect on how to harness the potential of digital technologies and to consider the ethical issues they may raise not only in education and research but also in all aspects of life.
It's so good to hear that you have made the best out of the situation, and have successfully adapted to the 'new normal'. Besides academics, Chevening scholars are very active: you all participate in a wide range of Chevening events during your time in the UK. Could you share with us some of the most interesting extracurricular activities that you have been able to do, either pre-COVID or post-COVID?
Chevening organise a wide range of activities for scholars, and I have been lucky to be able to participate in several events and networked with scholars from other countries. One of the most memorable activities was the voluntary project in Sheffield in February 2020. Eleven Chevening scholars gathered in Sheffield and went for a scavenger hunt to collect items for the Archer Project to help the local homeless and vulnerable. The project really pushed me to step out of my comfort zone as I had to work in a team with people I just met and went door to door to collect donations in a completely new city. At the same time, it was eye-opening to witness the great work that the charity has done to take care of the homeless. At the end of the day, my team – "Archer's Angels", won the scavenger hunt, and I left Sheffield feeling absolutely privileged to be able to support those in need.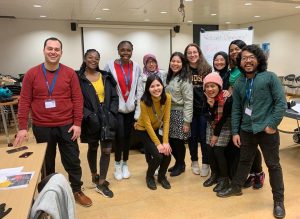 Photo: With Chevening scholars in Sheffield
The Vietnamese Chevening scholars are also very close to each other. When we first arrived in the UK last year, we organised a big trip to Oxford where one of the scholars is based. We cooked phở and played "Ma Sói" (The Werewolves of Millers Hollow), which I was awful at but still enjoyed the good times with my fellow Cheveners! 😊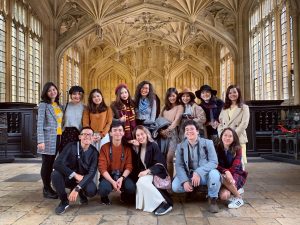 Photo: Gathering of 2019/20 Vietnamese Chevening scholars in Oxford
At university, I have a very close group of friends called "Pub friends", consisting of students from the UK, Vietnam, Korea, Japan and China. Since we are very international, we usually organise 'national cuisine day' when each of us cooks our national dishes. Last Christmas, our British friend had us over at her home to celebrate Christmas with her family – a highlight of my UK experience. We had a wonderful day filled with delicious food, fun family games, and the joy of family gatherings.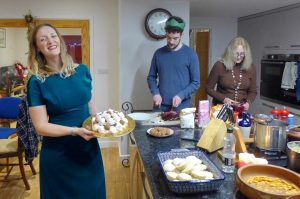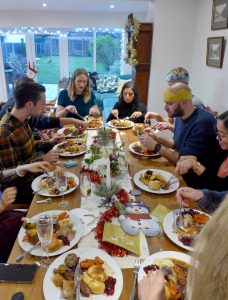 Photos: A British Christmas at my friend's home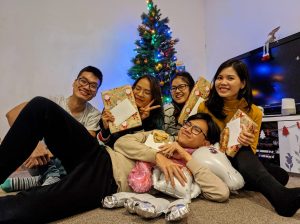 Photo: Christmas celebration with Vietnamese postgrads in Bristol
This unprecedented time, along with the uncertainty that comes with it, has overwhelmed many people. Do you have any tips to stay positive during this time?
By participating in Chevening activities and making an effort to being approachable and not being afraid to make mistakes, I've met with many interesting people who have become my support system when I'm living away from home, especially during these challenging times. As mentioned before about leveraging technology, I believe that one should continue to reach out and stay in touch with their friends and family, online! For example, I still regularly contact my "Pub friends" group via "online pub sessions" to cheer each other up and keep each other updated.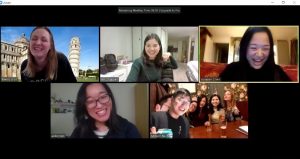 Photo: An "online pub session" with my friends
That said, I really miss the face-to-face interaction with my friends and staff at the University. I hope that as lockdown restrictions ease, I can go outdoors more often and meet my friends in person regularly.
This article was originally published by Mind the Gap Chevening in Vietnam. The original post is here: Mind the Gap Chevening in Vietnam
Watch: Nhu gives her top 3 tips for new School of Education students: